… and why you shouldn't either
first, a caveat…
On this blog, as its name and web address might suggest, I speak for myself, and not any organization. Specifically, SPEAK OUT Seattle neither instigated, reviewed nor authorized this post, nor is this any articulation whatsoever of that organization's official position. The organization is non-partisan and, at least at this writing, neither endorses nor discourages particular candidates. These thoughts are my opinions only. Should these candidates revise their positions, I reserve the right to update my views, and will do so here.
Seattle neighbors: Those of you even considering casting your vote or support for Emily Myers or Shaun Scott in D4, or Tammy Morales in D2 as City Council Representative should reconsider your vote.
As a member of citizen group SPEAK OUT Seattle, I've had the pleasure of getting to know a diverse group of concerned citizens who seek a better approach to urgent issues of homelessness, addiction, and public safety in the city of Seattle. And we are putting that concern into action.
We are organizing a series of forums (panel-style debates) in each district of Seattle. We have extended invitations to all city council candidates, we are paying for the space and audio/video equipment, arranging for moderators, volunteering our time, doing outreach and more. It's free to voters.
The job of City Councilmembers
A brief aside — as some may know, the Seattle City Council is the legislative body of Seattle, and has 9 positions, 7 of which are up for election this August & November. All 7 up for election are "District" level spots. Districts are a collection of neighborhoods in the city. Voters are only electing the City Council representative for their own district this year; so voters who live in D4 can only vote for D4 candidates, and so-on. The goal of the district-level system is greater Councilmember-neighborhood connection. The Mayor and Executive Branch can make some progress on key issues facing the city, but very little long-term progress without the support and partnership of the City Council.
The Forums
The format is a familiar one. A moderator asks questions of panelists that come both from voters and the sponsoring organization, panelists respond, and a timer/clock is there to try to ensure equal time. Pretty straightforward.

We will be live-streaming these panel forums and uploading final videos. In particular, that's my role — I'll be live-streaming the events in my volunteer capacity. I'll link to them once they're completed, but you can register to watch them here. They are moderated, with a couple questions from SPEAK OUT Seattle organizers and the rest gathered from citizens. We certainly intend for them to be civil, open, and rational debates of various policy perspectives, and no policy perspective is off-limits, nor is any position or candidate excluded from debate.
This week, a handful of motivated, ideologically driven activists decided they do not wish their candidates to speak at these events, and have launched a smear campaign attempting to conflate two different groups: Safe Seattle (which has no sponsorship of the debates nor any organizing role) and SPEAK OUT Seattle.
Please take a moment to hear directly from one of the co-founders of SPEAK OUT Seattle here.
Safe Seattle is a rather sensationalist media site on Facebook with close to 10,000 followers. It tends toward the sensational and I would readily stipulate that some of their posts are irresponsible. If you're interested in judging for yourself, you can check them out here. There is more than one post there which I wish they would retract, and I sometimes consider them quite unhelpful to the civic dialog of the city. I don't particularly welcome their meme-driven, snarky style. Still, their rather large following indicates that many citizens are concerned about their main topics: addiction, public safety, homelessness, budgeting, cronyism and more. I'm concerned about some of those issues too. All Seattleites should be. That media outlet's astonishing growth suggests that this concern among Emerald City dwellers has been greatly on the rise; after all, it's free to join, free to leave.
SPEAK OUT Seattle on the other hand is a concerned citizen group encouraging citizens to get involved and push our truly broken municipal government toward greater accountability, greater measurement, transparency and actual solutions which have been demonstrated to work in other regions of the nation.
You can follow SPEAK OUT Seattle on Twitter, or join its more than 2,000 members here.
Follow @sos_seattle
Here are SPEAK OUT Seattle's ground rules: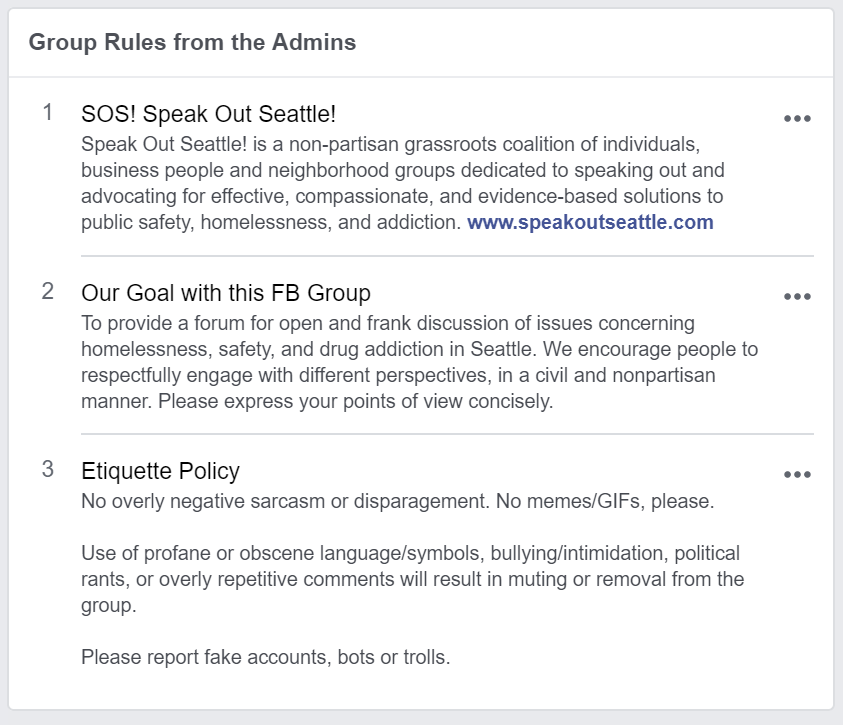 Candidates Emily Myers, Tammy Morales and Shaun Scott are each simultaneously bowing out of an upcoming moderated panel debate (some after previously accepting), which is certainly their prerogative — but they are also spreading complete misinformation about the organizing group in doing so.
An example of this coordinated attack on this moderate citizens group is found on Twitter:
How do we get mainstreams candidates to not go to the Speak Out Seattle Forums?

— laura loe (@LauraLoeSeattle) March 12, 2019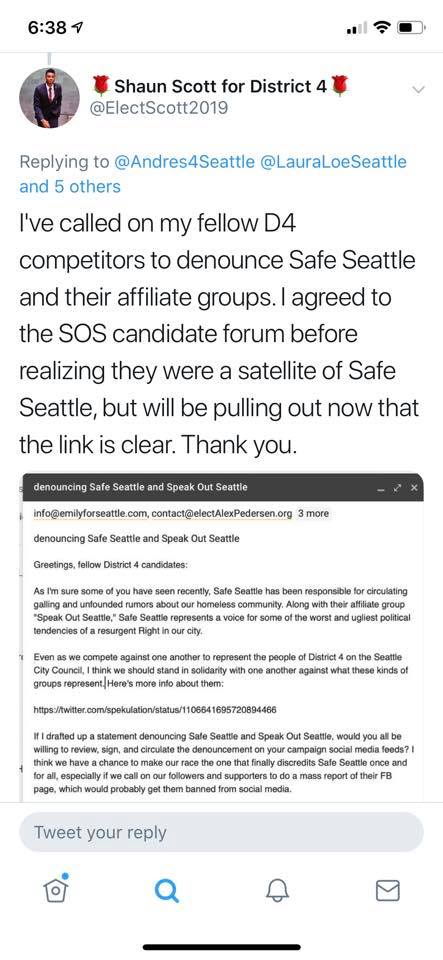 Are these claims true? Judge for yourself.
One of the good things about the Internet is that you don't need to take Scott's word for it, and you don't need to take mine. SPEAK OUT Seattle is free to join, free to leave, and discussion can be publicly viewed without even joining. At a minimum, it seems incumbent upon people using the phrase "criminalizing poverty" to actually back up their allegations that SOS actually does so, and how. I'm not seeing it.
I urge you to easily evaluate the truth (or utter falsehood) of their claims simply by visiting for yourself, and seeing what kind of discussion takes place in SPEAK OUT Seattle, and what the group of rational moderates is all about. It's free.
It would not surprise me at all to see activists attempting to disrupt these open forums. They are simply panel debates; but for some on the far left, mere discussion of any other approaches or framing but theirs is verboten. One wonders why protecting such framing is so important, and if deep down, they worry more that their desired framing might not really hold up under closer scrutiny.
I suspect it is more driven by a lack of desire to discuss the critical issues of of homelessness, addiction, public safety, and other controversial yet urgent issues with their ideas, issue-framing and approaches (and even choices of subcontracted service providers) being challenged.
Some of us are in favor of evidence-driven programs that actually work, such as ones used in other regions of the country to drive down the rate of addiction and homelessness and increase mental health services.
Those programs generally require more data collection, more measurement, more centralization of resources and services, more integration of programs, more personalization toward actual needs, and a less permissive approach to just set up camp anywhere. While funding no doubt matters greatly, this is not first about what level of total spending is needed, but rather how it is spent, and measured, and allocated. (My wife and I already contribute greatly to the City of Seattle in annual taxes, steadily more every year; we are very lucky and are happy to be able to do so. And we'd be happy to pay even more if and when we can get to a program and policy approach that actually works. We supported the $290 million Housing Levy, the Parks Levy and the Education Levy, each of which have components of help, and also support the $90 million direct total budget this year toward homelessness. In addition, we note that the Puget Sound Region spends, between private and public, more than $1 billion per year on homelessness, and we think programs can and should be better coordinated.)
Others simply wish to tout the "inputs" to the problem, tout their own compassion and name-call and mischaracterize that of others, feel good about short-term "fixes," and expand the entrenched, largely permissive programs and power structure that is already in place, a policy regime which is demonstrably not working.
Here's my comment on Emily Myers' post where she decided to drop out: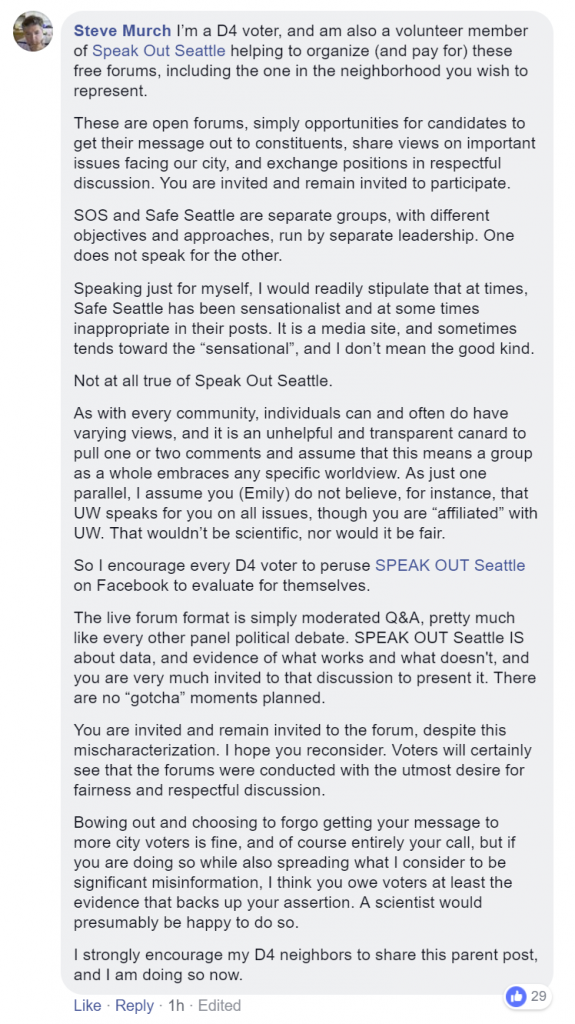 There are lots of good ideas and approaches. I do not expect candidates to fully agree with my own particular viewpoints on any particular issue. In fact, I'm currently supporting a few candidates where the Venn Diagram of my views and theirs doesn't intersect fully. That's OK. Because they listen, they are willing to engage in even uncomfortable topics, they bring data to the discussion, and they are rational. They don't attempt to silence the mere discussion of issues and policy positions.
At a minimum, a City Council member must engage with the constituents that they seek to represent on the topics those communities care most about. No one is requiring them to agree with a particular approach or framing or platform — but they should at least be able to present theirs in an open forum, have it challenged and be able to rationalize their support for it. Apparently, these candidates would rather bow out and use the excuse established by a deeply cynical misinformation campaign in doing so.
I have every confidence that it will be very clear which party is the reasonable one here wanting an evidence-based dialog, and which one is not and does not, once the forums get underway and we have videos. It should be clear that we rational moderates simply want a more accountable and results-oriented city, and less government by bullhorn. Too many of us have allowed that to happen. We're tired of it, and it's not working.
Luckily there are many other candidates from which to choose. My strong hope is that you cast your votes and your support elsewhere.
UPDATE, March 22nd 2019
SPEAK OUT Seattle's first City Council Forum was held last night (March 21, 2019) in West Seattle — that's District 1. Candidates Jesse Greene, Lisa Herbold (incumbent), Brendan Kolding, Phil Tavel and Isaiah Willoughby shared their thoughts with an overflow crowd of 250+. Mike Lewis of KIRO Radio was moderator.
Here's the full video from the event.
We no longer need to speculate what these forums might look like. Judge for yourself whether the forum was open, reasonable and fair. It was an overflow crowd, and thus far we have 300+ views on the video. I think it was a huge tactical mistake for the three candidates mentioned to opt out of the forum, but it was certainly their prerogative. I do not, however, think it was wise to cast aspersions about the organizing group in doing so.
https://www.youtube.com/watch?v=ZDRjjpwiipw
UPDATE: APRIL 2nd 2019
The D4 forum that Myers and Scott opted out of has come and gone. We had 200+ people at the forum who came out to hear what the candidates who wish to represent them had to say.
You can view the entire debate below. Judge for yourself whether the forum was open, reasonable, topical and fair.
UPDATE: April 6, 2019
The D2 candidate forum was held as planned, and neither Tammy Morales nor Chris Peguero showed up.
Meanwhile, there are several progressive bloggers who are saying that candidates should be doing these events.
For instance, Everybody Hates Nate:
"Seattle is in trouble if progressive leaders won't even acknowledge a group like SOS. Workable solutions and practical management are not likely in a scorched-earth, virtue signaling contest. "
https://www.everybodyhatesnate.com/blog/b5dsmjtb85h536h6kz9c8wh37akh35
And former City Council candidate Michael Maddux has this to say:
"I'm going to start this off with something that may cause me to lose favor with some on the political left in Seattle: I believe that candidates invited to the Speak Out Seattle forums/debates should participate."
http://hashtaghashtag.org/blog-1/2019/4/3/speakoutseattle
You can watch the full D2 event that Morales and Peguero decided to boycott below, and judge for yourself whether it was open, reasonable, topical and fair.
(Candidate Matt Perkins also did not show up, but it sounds like his reasons are different than a boycott; rumors are that he may be dropping out.)