On average, campaigns directly spent $21.96 per vote in the August 6th Seattle City Council Primary Election.
Which Seattle City Council Primary candidates spent the most/least per vote? Based on preliminary numbers of direct expenditures and votes counted as of 8:00PM last night, here's a chart. Names in bold are, at this writing, most likely to move on to the general November 5th election, though these names could change as the remaining votes come in.
Several very important caveats:
[1] This chart only includes direct expenditures by the candidate, not spending by PACs on their behalf. There was significant PAC spending in this race. Direct Expenditures are as reported by the King County Elections board as of August 6th 2019.
[2] Votes are still being counted and won't be final for at least a week. These numbers will change; direct expenditure per vote will decline as votes come in.
The fourteen candidates who are most likely to move on to the general election (as of August 7th — again, these numbers may change) are displayed in bold.
Observations
I was interested to see that of the 14 City Council candidates most likely to move to the general, all but one — incumbent Council Member D. Juarez — participated in Alignvote. Another way to look at this: there were 13 of the 54 candidates who chose not to participate, deciding not to use the completely free platform as a way to get their stances/message to voters. In the end, all but one of the candidates who declined participation won't advance to the General Election. No non-participating candidate who isn't an incumbent will advance.
Alignvote delivered about 11,200+ candidate rankings during this period, and was shared a lot online. CM Juarez remains most welcome to confirm her stances at any time, and I'll continue to reach out to her campaign office.
Two candidates: Kshama Sawant and Shaun Scott, spent more than the average per vote. Sawant's campaign was astonishingly big-budget — she directly spent 5.5x the campaign average. (Campaign average direct expenditure: $42,539.)
Money isn't everything, but it can perhaps help candidates overcome negatives, if focused on turnout.
Heidi Wills spent just about at overall average level on a per-vote basis (but 2x on a campaign budget overall basis.) Eleven other candidates spent less than average per vote.
Ann Davison Sattler ran a very small budget campaign and showed a lot of efficiency — doing very well, albeit in a relatively small field.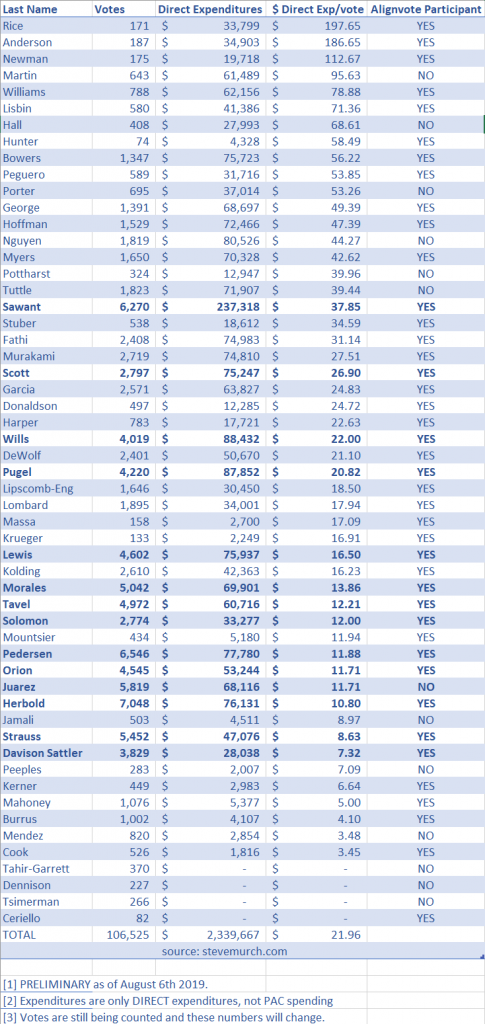 Sort By Total Votes Received (As of August 6th 2019 8:15pm)
Steve's an entrepreneur and software leader. Steve's worked on consumer apps, online travel, games, relational databases, management consulting and telecom. He launched Alignvote in 2019, which helped Seattle voters find their best-match political candidates by indexing their existing on-the-record stances, matching them with voter's own answers to those exact same questions. Alignvote also offered politicians the chance to elaborate on those views. Alignvote is on hiatus for now, but might return in a future election.
Politically, Steve is an independent, and has not registered for any political party. He believes in outcome-based transparent governance; he is a moderate who believes that progressive approaches can be great if truly outcome-focused and evidence-driven, but also that unaccountable spending is a recipe for corruption and little progress. He believes that Seattle's municipal government must work well for all 724,000+ Seattleites.
Steve's founded multiple companies. In the early 2000's, he founded BigOven, the first recipe app for iPhone, with more than 15 million downloads, which was purchased in 2018. Steve served as Chairman of Escapia Inc., the leading SaaS solution for the US vacation rental industry, sold to Homeaway, now part of Expedia. In 1997, Steve was cofounder, President, CEO and Chairman of VacationSpot, a pioneer in the online reservation of vacation rentals, bought by Expedia in January 2000. At Expedia, Steve was Vice President of Vacation Packages, leading the vacation package and destination services teams, helping to create two patents on the first-ever dynamic vacation packaging system on the Internet, which now represents billions in annual transactions for Expedia.
He has keynoted on several occasions at the Vacation Rental Managers Association (VRMA), and taught a graduate level course on the strategic management of innovation at the University of Washington Foster Business School in Seattle, Washington.
Steve worked for Microsoft from 1991 to 1997 in a variety of senior marketing and executive positions, and led the creation of the internet games group, helping develop several products and patents related to online multiplayer gaming. He helped launch Microsoft Access and was involved in the acquisition of Fox Software by Microsoft in 1993. He's worked for IBM, Booz-Allen Hamilton and Bell Communications Research.
He holds an MS in Computer Science from Stanford University in Symbolic and Heuristic Computation (AI), an MBA from Harvard Business School, where he was named a George F. Baker Scholar (awarded to top 5% of graduating class), and a dual BS in Applied Mathematics / Computer Science and Industrial Management from Carnegie Mellon University (CMU) with University Honors. Steve volunteers when time allows with Habitat for Humanity, University District Food Bank, YMCA Seattle, Technology Access Foundation (TAF) and other organizations in Seattle.