Now in Beta Testing
Have you ever tried to pull together a celebration video or a group card for a party? Today, I'm introducing a much easier way to do that:
The first target use-cases are for graduations and commencement celebrations, particularly college and high school graduations in 2020.
But it's also applicable for birthdays, weddings, teacher appreciations, first-responder appreciations, retirement celebrations, bar mitzvahs, bat mitzvahs, staff appreciations, promotions and more.
The Problem
In 2020, nearly all commencement ceremonies have been cancelled. Many parents are trying to pull together milestone videos, photo boards and Zoom chats with relatives for their June graduates to help recognize their accomplishments, and make these moments special.
I'm trying to make the whole process of collecting videos, souvenir photos and notes of appreciation easier.
While the initial focus is on the graduates, they're not the only ones missing out on milestone celebrations. Many parties are going virtual-only.
This site is also very useful for pulling together appreciation videos for essential workers, like healthcare workers, teachers and more. The possibilities here are vast. Why not take a moment to gather appreciative thoughts for those people you want to celebrate?
Pricing
It's 100% free through beta testing, at a minimum through Memorial Day 2020, and very likely for several weeks after that.
There will, at some stage, be a nominal cost for these things. That's because storage and compute time on the Internet aren't free. But that will be worked out over the coming weeks, and once we roll out pricing, we'll still offer a way for any content submitted between now and then (and likely several weeks after) to be easily downloaded for free.
Origin
Last month, in a parents' group on Facebook for my son's university, after the school announced that graduation ceremonies were cancelled for 2020, quite a few parents started exchanging ways to still express celebration, reflection and connection.
I've made such celebration videos before, and the process of collecting various videos from people is like herding cats. Yes, you can email your friends and family, but most email services disallow large files. You also can't just send a text for the same reason. Some friends have iPhones, some Android, some older relatives only have desktop computers. And have you ever tried to walk your in-laws through uploading something from their phone to YouTube? etc.
Additionally, some people just want to write notes and share a photo.
As it happens, I had just finished some work on making browser-based webcam recordings easier. So I took those components, and set to work on a project to make this whole Group Card collection process easier.

This project is pretty bare-bones at the moment, focused primarily on the media collection workflow — but it already is very useful for this May and June's graduations and weddings, so I wanted to get it out the door and get feedback.
All data is backed up to the cloud; don't worry about losing any memories. But functionality will absolutely change over the coming weeks.
Here's how it works
Step 1: Answer a few quick questions to set up a celebration. Who's the honoree? When's the date? When do you need videos submitted by? Etc.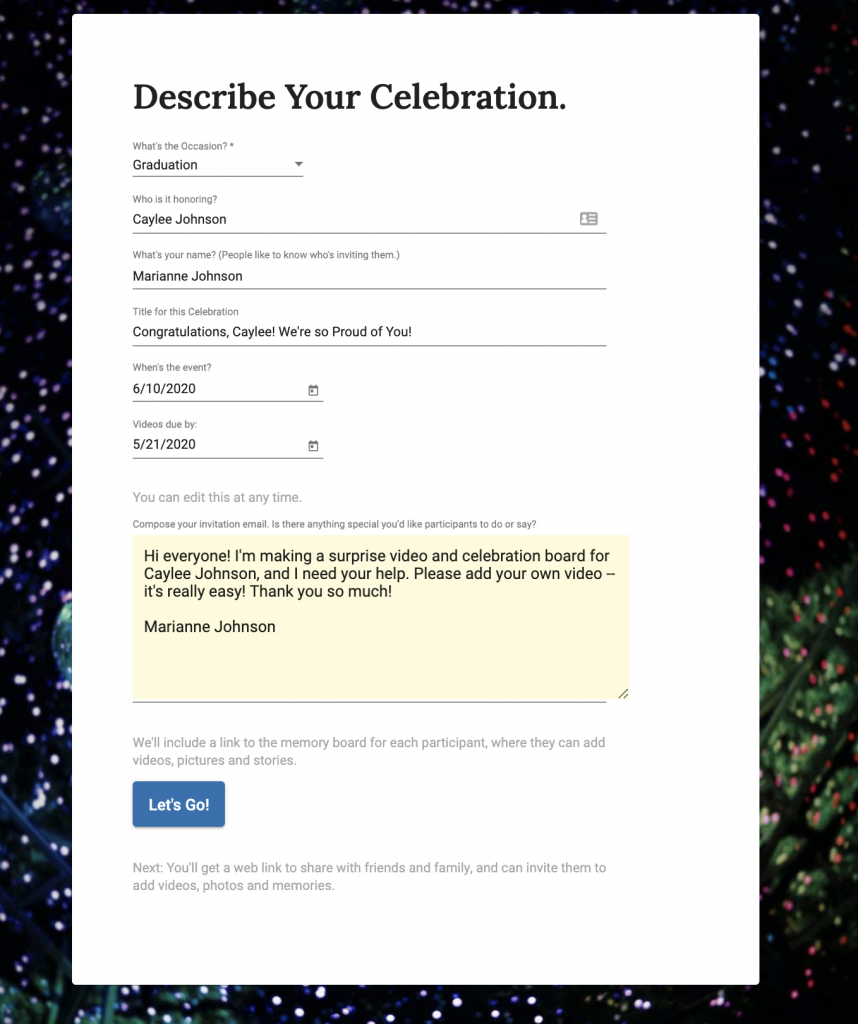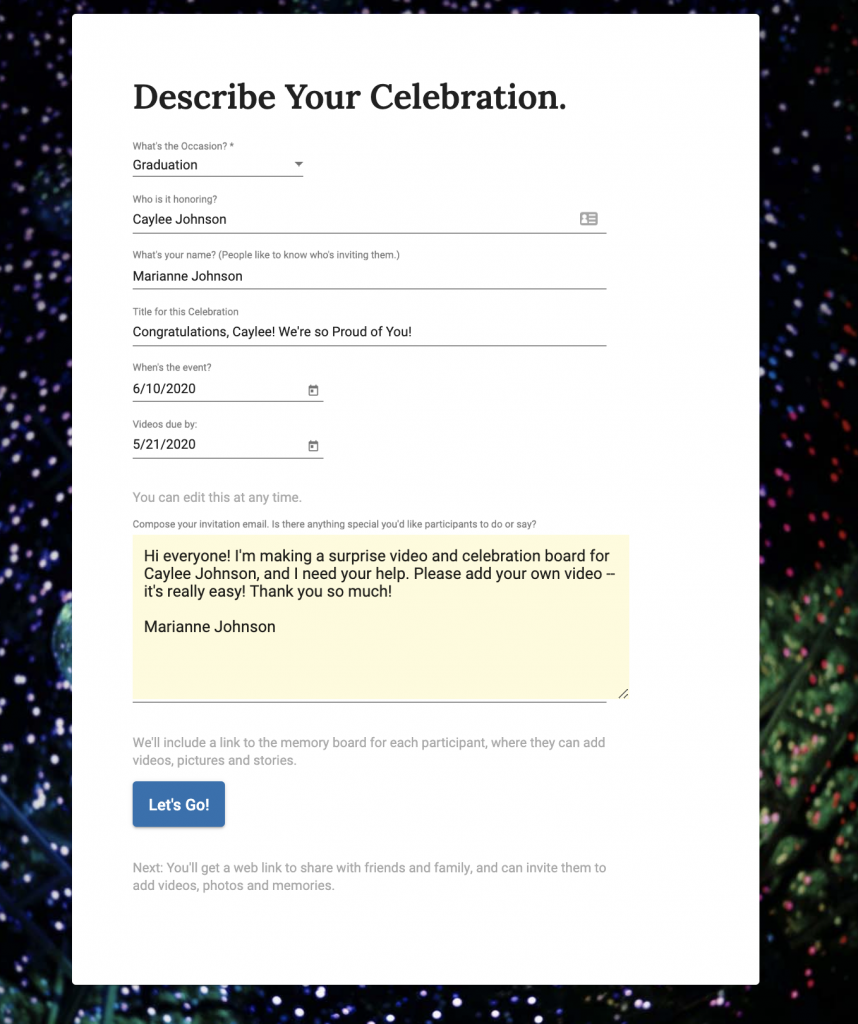 Step 2: You'll get a permalink web address for that celebration. You can share that link with the friends and family of the honoree. It also has a handy way to invite people to the page.

The feed is rather like Instagram, keeping things familiar. It allows posts of images, photos, videos and stories, but with a single topic — it's just for that person and event, and the content is controlled by the organizer.

Step 3. Friends and relatives can easily record "congratulations" video messages from their webcams or mobile phones and click one button to upload it to the page. They can also add photos or a story. They can edit these at any time. The organizer can download this content at any time, edit or remove these posts on the group card.
Coming soon
I wanted to get the initial memory-collection site up as quickly as possible. Coming soon, the site will assemble a montage video for the organizer, let them share followup photos, and a few other nice features to come.
Pricing
All events planned during the beta period are 100% free of charge.
Storage and computing do cost money, so I will be charging a fee at some threshold when this comes out of beta — likely via some pricing model that lets people add, say, fifteen memories to a board for free, but has a modest one-time unlock charge to see those beyond the first fifteen. Or perhaps it's free, but with a watermark, and a fee unlocks it. I don't yet know.
After looking around in the marketplace, I didn't see anything that filled this need well. I think this site can be very useful to a lot of people.
I'm looking for feedback — please drop me a note either here, or on Twitter!
And go celebrate someone you love:
Thanks,
Steve
Steve's an entrepreneur and software leader. Steve's worked on consumer apps, online travel, games, relational databases, management consulting and telecom. He launched Alignvote in 2019, which helped Seattle voters find their best-match political candidates by indexing their existing on-the-record stances, matching them with voter's own answers to those exact same questions. Alignvote also offered politicians the chance to elaborate on those views. Alignvote is on hiatus for now, but might return in a future election.
Politically, Steve is an independent, and has not registered for any political party. He believes in outcome-based transparent governance; he is a moderate who believes that progressive approaches can be great if truly outcome-focused and evidence-driven, but also that unaccountable spending is a recipe for corruption and little progress. He believes that Seattle's municipal government must work well for all 724,000+ Seattleites.
Steve's founded multiple companies. In the early 2000's, he founded BigOven, the first recipe app for iPhone, with more than 15 million downloads, which was purchased in 2018. Steve served as Chairman of Escapia Inc., the leading SaaS solution for the US vacation rental industry, sold to Homeaway, now part of Expedia. In 1997, Steve was cofounder, President, CEO and Chairman of VacationSpot, a pioneer in the online reservation of vacation rentals, bought by Expedia in January 2000. At Expedia, Steve was Vice President of Vacation Packages, leading the vacation package and destination services teams, helping to create two patents on the first-ever dynamic vacation packaging system on the Internet, which now represents billions in annual transactions for Expedia.
He has keynoted on several occasions at the Vacation Rental Managers Association (VRMA), and taught a graduate level course on the strategic management of innovation at the University of Washington Foster Business School in Seattle, Washington.
Steve worked for Microsoft from 1991 to 1997 in a variety of senior marketing and executive positions, and led the creation of the internet games group, helping develop several products and patents related to online multiplayer gaming. He helped launch Microsoft Access and was involved in the acquisition of Fox Software by Microsoft in 1993. He's worked for IBM, Booz-Allen Hamilton and Bell Communications Research.
He holds an MS in Computer Science from Stanford University in Symbolic and Heuristic Computation (AI), an MBA from Harvard Business School, where he was named a George F. Baker Scholar (awarded to top 5% of graduating class), and a dual BS in Applied Mathematics / Computer Science and Industrial Management from Carnegie Mellon University (CMU) with University Honors. Steve volunteers when time allows with Habitat for Humanity, University District Food Bank, YMCA Seattle, Technology Access Foundation (TAF) and other organizations in Seattle.