Jupyter Notebooks are a great tool for data scientists, allowing you to work with languages like Python and R to analyze and visualize data. I was pleased to see that The Azure team has now made Jupyter Notebooks available for free at https://notebooks.azure.com.
Here, in a simple "Hello World" application, I've used the platform to do a simple analysis of the bicycle traffic over the Fremont Bridge here in Seattle. There are sensors on the East and West sidewalks of the Fremont bridge that pick up bike traffic.
I was curious what's happened to overall bike traffic on that bridge as Seattle's population has risen:
Biking across the Fremont Bridge appears to have not quite kept up pace with population growth: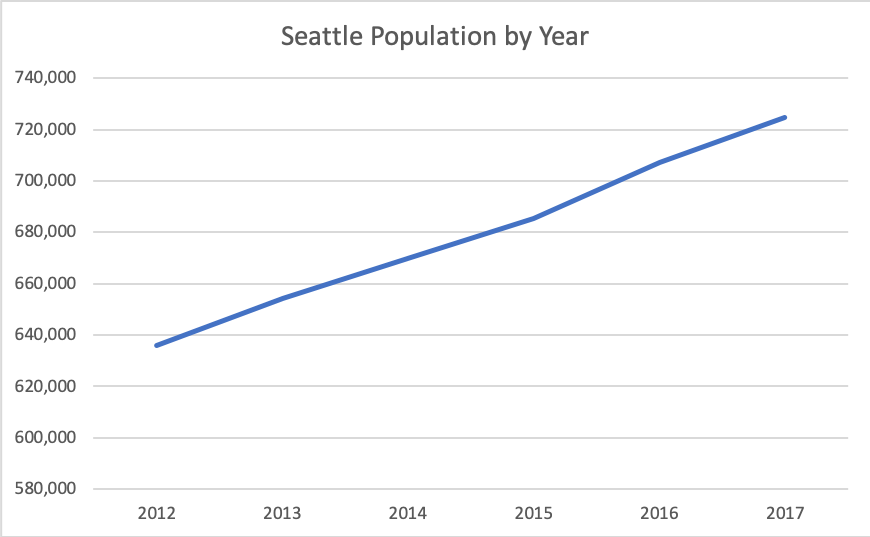 Here's Seattle's population by year (2012-2017):
See the Jupyter Notebook here:
Steve's a Seattle-based entrepreneur and software leader, husband and father of three. He's American-Canadian, and east-coast born and raised. Steve has made the Pacific Northwest his home since 1991, when he moved here to work for Microsoft. He's started and sold multiple Internet companies. Politically independent, he writes on occasion about city politics and national issues, and created voter-candidate matchmaker Alignvote in the 2019 election cycle. He holds a BS in Applied Math (Computer Science) and Business from Carnegie Mellon University, a Masters in Computer Science from Stanford University in Symbolic and Heuristic Computation, and an MBA from the Harvard Business School, where he graduated a George F. Baker Scholar. Steve volunteers when time allows with Habitat for Humanity, University District Food Bank, Technology Access Foundation (TAF) and other organizations in Seattle.