I've created HipHip.app to help you gather memories and kudos from far-flung friends and family.
It's really easy to create a Group Card, and invite friends and family to sign. You get keepsake videos, testimonials and notes; HipHip does all the collection for you.
Create a Card.
All you do is head over to hiphip.app, create a card by answering a few questions: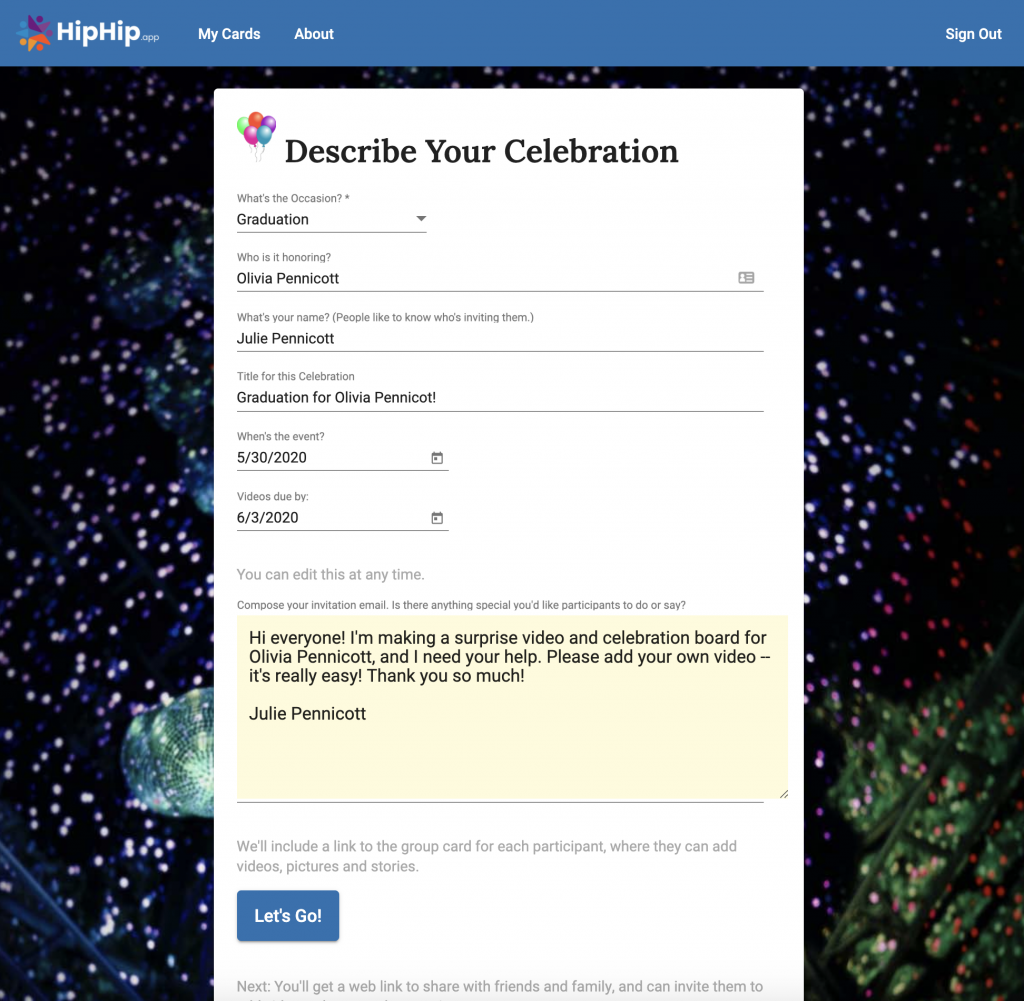 Customize Your Card.
Great! Your card is now created. You get a permanent URL for it, and a handy QR code if you'd like to share it in person or printout. You can change the hero photo and soon a few other options to make it your own.
Sign It: Add Video, Photos, GIPHYs and Text.
Visitors (including you) can now sign it by adding a video (record from webcam or upload it from your phone), add a photo, or add a GIPHY animation. You can add as many of these as you like. You can think of it as a semi-private Instagram feed, dedicated to the person and occasion.
HipHip supports JPG, JPEG, HEIC, MOV, and MP4 uploads. And it has a built-in webcam recorder that works from Chrome, the new Microsoft Edge, Firefox, and Safari.
Add a caption and a story, and click "Save!" That's it.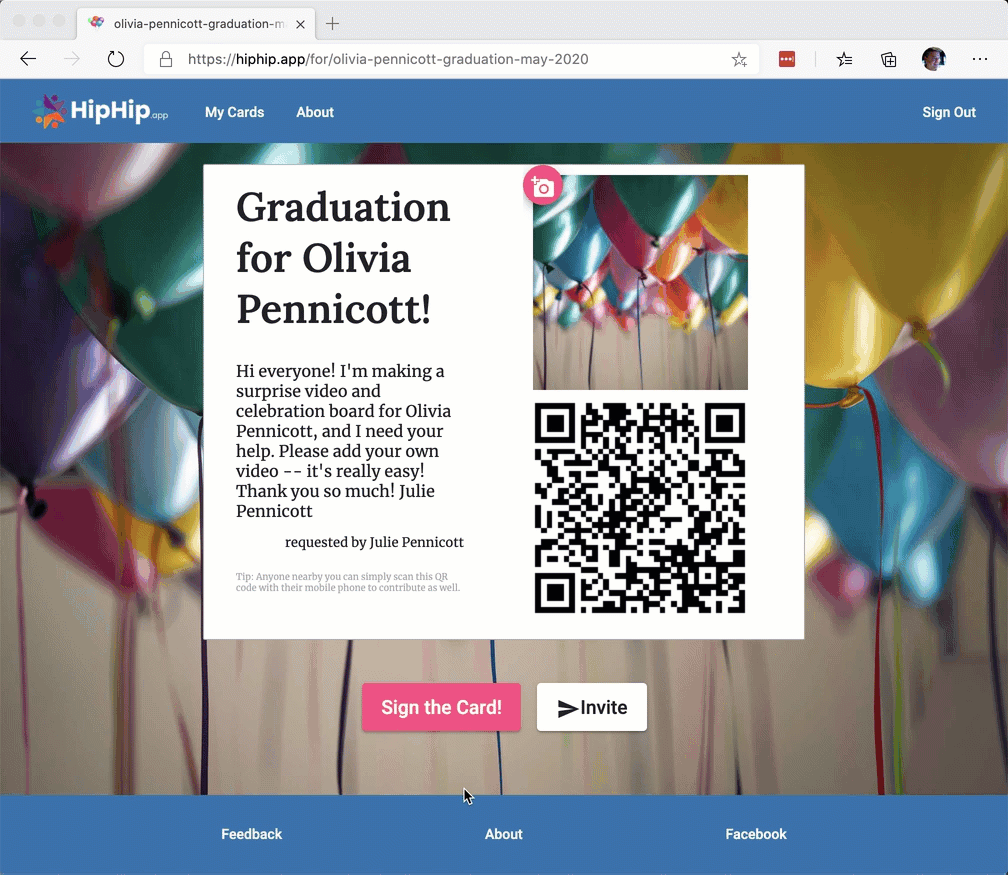 Invite Friends & Family.
Now comes the fun part — simply share the URL for the card Facebook and via email with friends and family.
You can also let HipHip.app email friends for you. They'll get a link where they can sign the card. No uploads to YouTube or file sharing services, no dropbox handoffs, nothing. Just a card that gets better with each signature.
You get a bunch of videos celebrating your graduate, as well as photos, fun animations, and sentiment from all over the world.
It's that easy!
It's currently in open beta, and free during the beta period.
After this beta period is over, there might be a hosting charge (in the range of less than twenty dollars), but any cards created during the beta period are free.
Give it a try, at hiphip.app.

Note that it's ".app", not .com. And congratulations to the Class of 2020!
Steve's an entrepreneur and software leader. Steve's worked on consumer apps, online travel, games, relational databases, management consulting and telecom. He launched Alignvote in 2019, which helped Seattle voters find their best-match political candidates by indexing their existing on-the-record stances, matching them with voter's own answers to those exact same questions. Alignvote also offered politicians the chance to elaborate on those views. Alignvote is on hiatus for now, but might return in a future election.
Politically, Steve is an independent, and has not registered for any political party. He believes in outcome-based transparent governance; he is a moderate who believes that progressive approaches can be great if truly outcome-focused and evidence-driven, but also that unaccountable spending is a recipe for corruption and little progress. He believes that Seattle's municipal government must work well for all 724,000+ Seattleites.
Steve's founded multiple companies. In the early 2000's, he founded BigOven, the first recipe app for iPhone, with more than 15 million downloads, which was purchased in 2018. Steve served as Chairman of Escapia Inc., the leading SaaS solution for the US vacation rental industry, sold to Homeaway, now part of Expedia. In 1997, Steve was cofounder, President, CEO and Chairman of VacationSpot, a pioneer in the online reservation of vacation rentals, bought by Expedia in January 2000. At Expedia, Steve was Vice President of Vacation Packages, leading the vacation package and destination services teams, helping to create two patents on the first-ever dynamic vacation packaging system on the Internet, which now represents billions in annual transactions for Expedia.
He has keynoted on several occasions at the Vacation Rental Managers Association (VRMA), and taught a graduate level course on the strategic management of innovation at the University of Washington Foster Business School in Seattle, Washington.
Steve worked for Microsoft from 1991 to 1997 in a variety of senior marketing and executive positions, and led the creation of the internet games group, helping develop several products and patents related to online multiplayer gaming. He helped launch Microsoft Access and was involved in the acquisition of Fox Software by Microsoft in 1993. He's worked for IBM, Booz-Allen Hamilton and Bell Communications Research.
He holds an MS in Computer Science from Stanford University in Symbolic and Heuristic Computation (AI), an MBA from Harvard Business School, where he was named a George F. Baker Scholar (awarded to top 5% of graduating class), and a dual BS in Applied Mathematics / Computer Science and Industrial Management from Carnegie Mellon University (CMU) with University Honors. Steve volunteers when time allows with Habitat for Humanity, University District Food Bank, YMCA Seattle, Technology Access Foundation (TAF) and other organizations in Seattle.