Alignvote now displays Candidate Videos in your ranking results, as provided by The Seattle Channel. These short video statements help you get to know each candidate a bit better.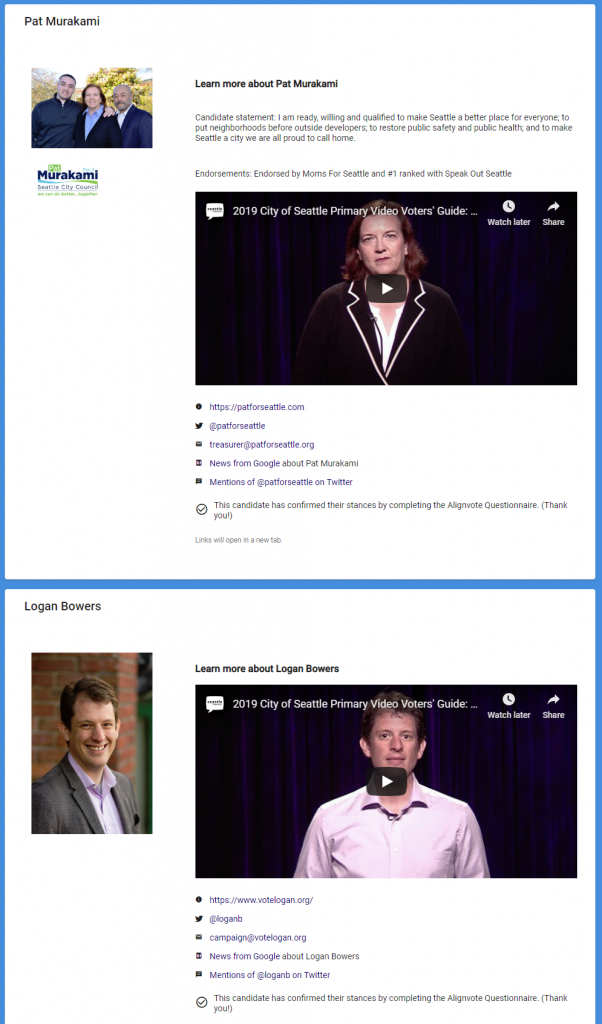 Videos are only shown for Participating Candidates. "Participating Candidates" simply means that they took the time to answer the Alignvote Survey via their private dashboard. Alignvote doesn't charge candidates or voters any fee.
Participating candidates get several free benefits, including:
Improved Profile Display for voters
Add elaborations on any or all issues
Add Endorsements, Candidate Statement, Funds Raised
Candidate Video Statement if available
See how you're ranking in Alignvote
See what the top issues are in your race
See overall Alignvote usage
Steve's a Seattle-based entrepreneur and software leader, husband and father of three. He's American-Canadian, and east-coast born and raised. Steve has made the Pacific Northwest his home since 1991, when he moved here to work for Microsoft. He's started and sold multiple Internet companies. Politically independent, he writes on occasion about city politics and national issues, and created voter-candidate matchmaker Alignvote in the 2019 election cycle. He holds a BS in Applied Math (Computer Science) and Business from Carnegie Mellon University, a Masters in Computer Science from Stanford University in Symbolic and Heuristic Computation, and an MBA from the Harvard Business School, where he graduated a George F. Baker Scholar. Steve volunteers when time allows with Habitat for Humanity, University District Food Bank, Technology Access Foundation (TAF) and other organizations in Seattle.