When you've completed the interview on Alignvote, you'll get a result list of candidates in the race, sorted by how much they agree with you.
You can now click the "Show Detail" button, and it will show you, issue by issue, whether the candidate is in alignment with you (thumbs-up) or not aligned with you (thumbs down):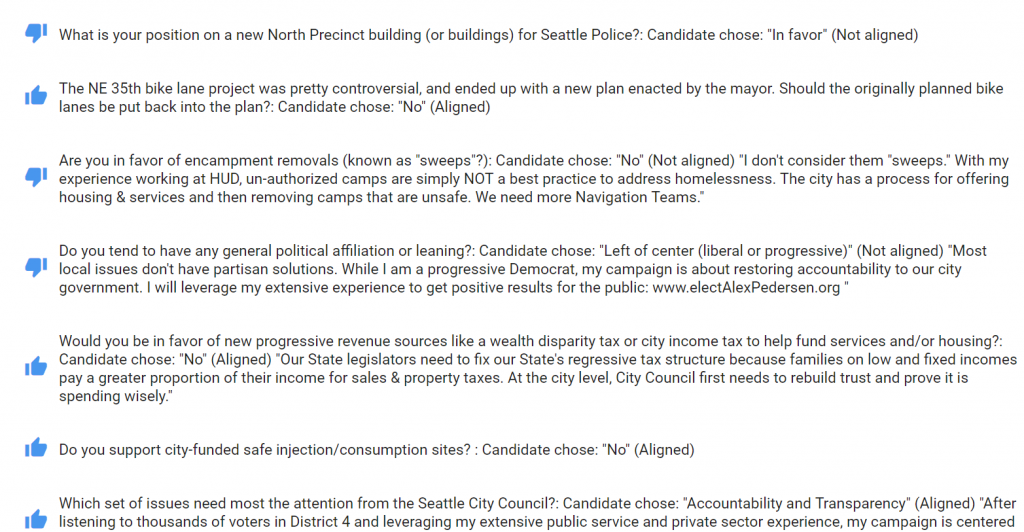 We hope this new level of transparency helps voters see more clearly why some candidates rank higher than others.
Note that your weighting influences the "cost" of a "misalignment". That is, by default, everything is neutral (50 points.) If an issue is unimportant to you, drag the weighting slider to 0 and a "miss" or a "match" won't influence the alignment score. If the issue is more important than average to you, drag the slider to the right.
With the new "share your session" permalink feature released yesterday, you can share these links on social media and others will be able to see the detail of where each candidate stands on the issues in the survey.
Steve's a Seattle-based entrepreneur and software leader, husband and father of three. He's American-Canadian, and east-coast born and raised. Steve has made the Pacific Northwest his home since 1991, when he moved here to work for Microsoft. He's started and sold multiple Internet companies. Politically independent, he writes on occasion about city politics and national issues, and created voter-candidate matchmaker Alignvote in the 2019 election cycle. He holds a BS in Applied Math (Computer Science) and Business from Carnegie Mellon University, a Masters in Computer Science from Stanford University in Symbolic and Heuristic Computation, and an MBA from the Harvard Business School, where he graduated a George F. Baker Scholar. Steve volunteers when time allows with Habitat for Humanity, University District Food Bank, Technology Access Foundation (TAF) and other organizations in Seattle.