Endorsements from The Stranger are arguably the most powerful in the city. Crosscut's David Kroman estimates their endorsement can carry at at least a 2% boost:
That doesn't mean they're good recommendations.
The current City Council is The Stranger's City Council
It is accurate to say the current Seattle City Council is The Stranger's Council. That's because 8 of the 9 current sitting Seattle City Council members were strongly endorsed by the far-left political writers at The Stranger: Kshama Sawant, Andrew Lewis, Dan Strauss, Lorena Gonzalez, Debra Juarez, Teresa Mosqueda, Tammy Morales, and Lisa Herbold. They now think the current President of the City Council has done such a bang-up job she should have a much bigger position, overseeing the entire executive branch of Seattle as our next mayor. How is City Council doing? How well is it run? Do you view the Seattle City Council favorably?
It is accurate to say that the Seattle Public Schools Board is The Stranger's Public School Board. That's because the current President of the Seattle School Board, Chandra Hampson, as well as key School Board member Zachary DeWolf, as well as other members earned the glowing endorsements from the political writers at The Stranger. This past year, Seattle Public Schools locked out K-12 students from in-person learning longer than any other city in the free world other than San Francisco, and these two specifically don't care that a homeless encampment continues to expand near an elementary school, which caused school lockdowns twice in two of the only days they were open last year.
It's accurate to say the prosecutor's office of Seattle is The Stranger's prosecutor's office. That's because City Attorney Pete Holmes, who plays the Sam Watterston role for Seattle and decides what to prosecute, what not to, and how, has been endorsed by The Stranger not once but for all three of his terms. Pete Holmes has overseen the utter dismantling of prosecution in Seattle. Holmes' twelve year leadership, applauded by The Stranger in election endorsements past, has resulted in frequent offenders cycling through Seattle's judiciary system, in which the 100 most frequent offenders committed over 3,500 bookable offenses, and 87 of those very same 100 people were booked another 220 times in just 9 months following that initial report. Is his strategy working? How well is Seattle's public safety working for all Seattleites?
The Stranger's track record provides an easy guide for you as a voter.
Do you love the results of the current City Council, Seattle Public Schools, and Seattle's public safety strategy overall? If so, the geniuses at The Stranger provide your perfect voting guide, because the people they wanted compassionate and progressive Seattleites to vote for have now been in charge for years.
Other than Mayor Durkan, The Stranger has had its preferred candidate elected to just about every key municipal position in the City of Seattle and much of King County for at least the past six years, especially when it comes to public safety and education policies. Vote for their slate in 2021, and you're saying you love their "Election Control Board's" discernment for leadership, their commitment to excellence, and the results. Follow their lead, and you are saying want to double down on it all.
Conversely, if you don't love the direction of Seattle, do not vote for the candidates they find appealing.
The Stranger is just out with their endorsements for the 2021 election.
They really want you to vote for Lorena Gonzalez, Teresa Mosqueda, Joe Nguyen, and Nikkita Oliver, but there are more candidates listed for other positions too.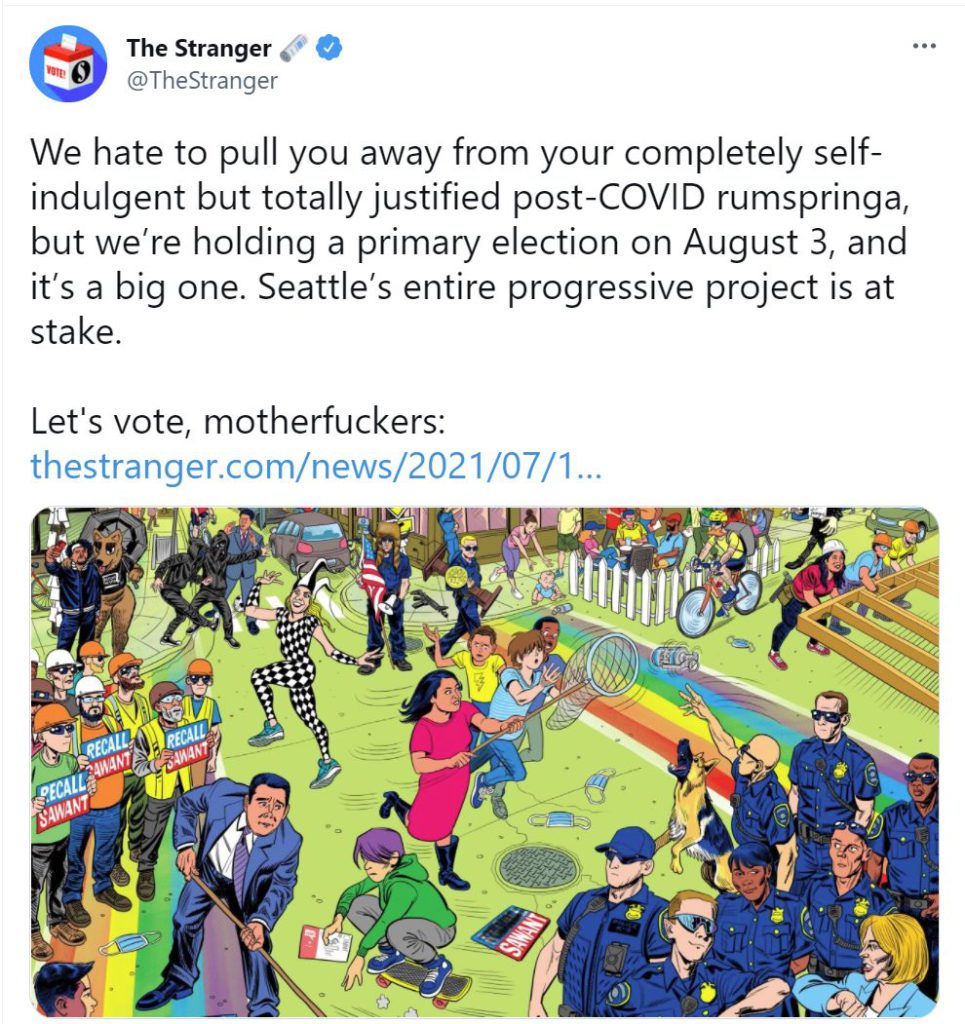 The folks at the Seattle Times on the other hand would prefer that you vote for Bruce Harrell, and Sara Nelson, and presumably also Ann Davison (whom they endorsed in a prior election) for a different approach to City Attorney's office than the one we've had for the past 12 years with Pete Holmes. [UPDATE, July 17 2021: Seattle Times Recommends Ann Davison for City Attorney]
Look. The Stranger hates moderate candidates, and even progressives who don't go all in on the far left agenda of urbanism, decriminalization, addiction enablement and more. It's an uphill battle for them. But even if the long-shot happens and a couple moderates win in 2021, moderates would still be in the extreme minority in city governance, but at least there would be a couple. Regardless of what you think of her, Mayor Durkan was a moderating influence in city governance. She is departing, so come November, there is no guarantee whatsoever there will be any moderation. (The Stranger outright says as much in their endorsements this year.)
As for City Attorney, note that The Stranger this time endorsed the even further-left-than-Holmes candidate for City Attorney, who quite LITERALLY wants to abolish the police department. That they would endorse her at all says all you need to know about their endorsement board, the quality of their judgment, and who they find desirable. (Can you name a single city that has ever successfully permanently "abolished" the police? She wants Seattle to take a flyer and be the first.) It is also quite likely The Stranger's endorsers reason that Holmes is a lock to make it through the primary anyway, and they want the November race for City Attorney to come down to ultra-left vs. quite-far-left, so you don't have much choice.
The City Attorney is supposed to represent you — us, the citizens — in Seattle courts. That's a very important role which sets policy around how we handle frequent offenders, which crimes to prosecute and which not to, and how.
Stranger Danger: Drop The Stranger's Political Picks
The folks at The Stranger would like you to believe they're more compassionate, younger, fresher and more open to great new ideas.
But how are those ideas working out? Are they truly more compassionate? Seattle hit record highs in overdose deaths, shootings, and police response times in the past year. Frequent offenders continue to revolve through the system. Seattle Public Schools remained closed longer than any other school district in the free world other than San Francisco, harming disadvantaged students most of all.
Want more effective city governance? Spend a few minutes talking with a friend about how The Stranger might make great movie and live entertainment recommendations, and is snarky and fun to read, but is absolutely a leading indicator of candidates who are bad at governing. Name me a candidate they've gushed over that's actually done a great job to make the city more livable or who has helped government more transparent and accountable to its people, or run better in any way.
Decades ago, they were the rabble-rousers, the iconoclast outsiders. They're no longer the outsiders. Their recommendations won, at position after position in Seattle. The Stranger is now the political insider, and often, kingmaker. We've seen the results of the leaders they recommend. They own the results of Seattle's public safety, green spaces, approach to homelessness, addiction, and education.
The Stranger writers are exceptionally good at creating highly readable, entertaining snark. But it's very hard to justify that the candidates they've recommended to you really -have- made things better.
Related: Ten Reasons I'm Not Voting for Lorena Gonzalez
Steve's an entrepreneur and software leader. Steve's worked on consumer apps, online travel, games, relational databases, management consulting and telecom. He launched Alignvote in 2019, which helped Seattle voters find their best-match political candidates by indexing their existing on-the-record stances, matching them with voter's own answers to those exact same questions. Alignvote also offered politicians the chance to elaborate on those views. Alignvote is on hiatus for now, but might return in a future election.
Politically, Steve is an independent, and has not registered for any political party. He believes in outcome-based transparent governance; he is a moderate who believes that progressive approaches can be great if truly outcome-focused and evidence-driven, but also that unaccountable spending is a recipe for corruption and little progress. He believes that Seattle's municipal government must work well for all 724,000+ Seattleites.
Steve's founded multiple companies. In the early 2000's, he founded BigOven, the first recipe app for iPhone, with more than 15 million downloads, which was purchased in 2018. Steve served as Chairman of Escapia Inc., the leading SaaS solution for the US vacation rental industry, sold to Homeaway, now part of Expedia. In 1997, Steve was cofounder, President, CEO and Chairman of VacationSpot, a pioneer in the online reservation of vacation rentals, bought by Expedia in January 2000. At Expedia, Steve was Vice President of Vacation Packages, leading the vacation package and destination services teams, helping to create two patents on the first-ever dynamic vacation packaging system on the Internet, which now represents billions in annual transactions for Expedia.
He has keynoted on several occasions at the Vacation Rental Managers Association (VRMA), and taught a graduate level course on the strategic management of innovation at the University of Washington Foster Business School in Seattle, Washington.
Steve worked for Microsoft from 1991 to 1997 in a variety of senior marketing and executive positions, and led the creation of the internet games group, helping develop several products and patents related to online multiplayer gaming. He helped launch Microsoft Access and was involved in the acquisition of Fox Software by Microsoft in 1993. He's worked for IBM, Booz-Allen Hamilton and Bell Communications Research.
He holds an MS in Computer Science from Stanford University in Symbolic and Heuristic Computation (AI), an MBA from Harvard Business School, where he was named a George F. Baker Scholar (awarded to top 5% of graduating class), and a dual BS in Applied Mathematics / Computer Science and Industrial Management from Carnegie Mellon University (CMU) with University Honors. Steve volunteers when time allows with Habitat for Humanity, University District Food Bank, YMCA Seattle, Technology Access Foundation (TAF) and other organizations in Seattle.